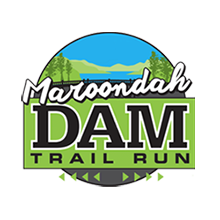 Maroondah Dam Trail Run
Sunday 24th April 2022
10km – 21km – 30km – 42km – 50km
Maroondah Dam Trail Run is the first in the Trailsplus Mountain Series.  Enter just this race, or enter the series and receive a discount.
Maroondah Reservoir Park is situated in the beautiful Yarra Ranges National Park.  Entrance is from the Maroondah Hwy, about 3km east of Healesville.  Maroondah features gardens with stands of native and exotic trees, native animals and birds and walking tracks. Its playground, lawns and cool summer shade make it a popular picnic destination in warmer months.
April brings the awesome colours of autumn and provides the perfect backdrop for supporters to have a picnic or BBQ while they wait for their competitors!
Fees for 2021
The schedule below will be updated for 2022
All prices listed are excluding Humanitix** fees and GST.
EARLY BIRD
6 Mar – 19 Mar
Race Schedule for 2021
Please note that check-in and briefing are both compulsory.  Competitors collect their race bib and pre-ordered merchandise during check-in.
Registration and purchase of merchandise is also available on race day during check-in time.
Location
Maroondah Reservoir Park
Maroondah Hwy
Healesville  VIC  3777
All Trailsplus events donate $1 for each participant to CanTeen, the Australian organisation for Young people Living with cancer.
UPDATE: In 2019, Trailsplus donated $456 to Canteen from the Maroondah Dam Trail Run with 299 competitors and competitor donations of $157.
On June 30th 2019 we surpassed donations of $50,000 to CanTeen. Massive thanks to our runners, volunteers and supporters.
Our Sponsors
We are proud of our sponsors and partners because we believe in their products. We are confident you will be satisfied as you check them out and support them. If you have a product that you would like to share with our running community, please contact us for a chat. We'd love to hear from you.