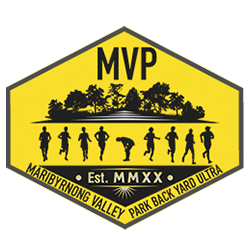 Maribyrnong Valley Park Backyard Ultra
Fri 2nd - Mon 5th Feb 2024
Every hour, on the hour, 6.7km course
You decide how far
LAST ONE STANDING
REGISTER
How about this – the only race format where you don't have to be fast to win.  You just need to complete the 6.7km course within an hour – HOUR AFTER HOUR.
And after every hour, those still participating are all tied for first place.  It's all about management, not speed.
Are you strong minded, perhaps described as stubborn?  You just might be the Last One Standing, THE WINNER!
There are no second places!!
START TIME:   FRIDAY 7pm
Other great Brimbank Park trail runs:
Please read the brief carefully if you are a competitor.
Fees for 2024
All prices listed are excluding Humanitix** fees and GST.
SUPER SPECIAL
6th Nov from 8pm
STANDARD
12th Dec – 16th Jan
**Trailsplus uses the Humanitix Ticketing System.  This is an awesome ticketing platform run by a not-for-profit organisation that donates 100% of the profits from booking fees to a humanitarian cause as chosen by Trailsplus.  For this race, the donation will go towards Indigenous Scholarships.
A NOTE ABOUT THE FEES
You can choose the full MVP entry option of unlimited laps, or try another option for those who know their limit. Pay less up front for limited laps (or Yards as those in the backYARD community refer to them), then pay more mid race if you want to keep going to the next stage.
There are 4 stages:
4 Yards (25k)
7 Yards (marathon)
15 Yards (100km)
Open (unlimited)
So check your options when you get to the registration page.
Remember, REGISTER EARLY TO GET THE BEST PRICE!
As far as results go, everyone is in the same competition.  It's all about setting fees to give people an opportunity to be involved up to their max ability (and maybe find some more!).
Location
Brimbank Park
Keilor Park Drive
Keilor  VIC  3036
Our Sponsors
We are proud of our sponsors and partners because we believe in their products. We are confident you will be satisfied as you check them out and support them. If you have a product that you would like to share with our running community, please contact us for a chat. We'd love to hear from you.