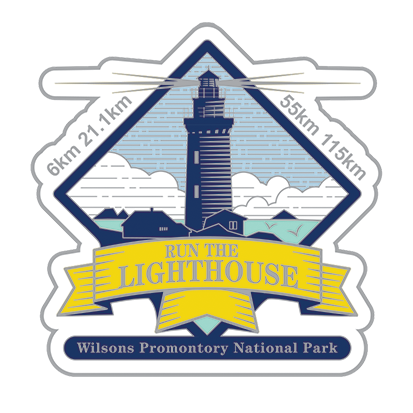 Run the Lighthouse
Saturday 27th Feb 2021
5km – 21km – 55km – 110km
ARE YOU GOING TO THE PROM?
Welcome to our new trail adventure, we would like to take you to the Prom.
Run the Lighthouse Wilsons Prom is coming to Trailsplus because you asked us to take you there on one of our relaxed trail adventures. It is very much aimed to be a family friendly weekend with plenty of options around Tidal River for the playful and adventurous.
The course however will challenge and amaze you, even take your breath away.
An unmarked course requiring a level of concentration and use of Map or App to navigate you through the awesome trails awaits and will no doubt fire up all those trail senses. The 55km and 110km courses will require a level of experience to ensure your readiness and ability to make it back safely.
Make sure you study the course maps and race information.
Please also ensure you have all the mandatory gear required to safely participate. INCOMPLETE gear items, results in NO RACE START.
Make yourself familiar with the event details and most importantly come for an adventure and great time.
Fees for 2020 (2021 fees TBA)
Tickets for this event are strictly limited to 100 total. These tickets will open initially for the longer distance events. 
If your ticket preference is not available initially, it may become available later. We are expecting a sellout and will operate a limited wait list.

If you are a group planning to join us with 55km/110km runners and also have members looking at shorter distances, please contact us via email and provide details of group members and distances required.
Initial Allocation:
110km = 30 spots
55km = 30 spots
21km = 30 spots
5km = 10 spots
If higher distances don't fill quickly their allocations will be made available to shorter distances.
Run the Lighthouse Course Maps
All courses start out on the same section
5km turn back at Norman Beach lookout (slight diversion off main track)
21km turn back at Telegraph Track Junction
55km complete full northern course loop and head straight back across to Oberon Bay
110km do complete course with a reverse northern loop from Little Waterloo Bay
Run the Lighthouse Location
Tidal River Wilsons Promontory VIC 3960
Our Sponsors
We are proud of our sponsors and partners because we believe in their products. We are confident you will be satisfied as you check them out and support them. If you have a product that you would like to share with our running community, please contact us for a chat. We'd love to hear from you.