WONDERFALLS
RACE INFORMATION
Please read the brief carefully if you are a competitor.
The Race Brief documented will be emailed to all competitors during the week before the race. This will include any last minute changes. This may include information such as, but not restricted to:
changes to the course
changes to the aid station locations
latest weather details
updates to the list of mandatory equipment
etc.
When running in pristine locations like the Wonderfalls trails in Lorne, Victoria, we are often at the mercy of the weather. Beautiful locations along the coast can be subject to high winds and river flooding. Under certain conditions courses may need to be changed slightly and may mean something a little longer than planned is in store for you.
Distances will always be at least what is advertised, the extra is free! 😉
For accommodation, visit Cumberland River Holiday Park.
SATURDAY EVENT
Note that this event is held on Saturday. This is different to most Trailsplus events, which are usually on a Sunday. We hope this may give competitors the opportunity to race on Saturday, then stay overnight in the area and enjoy a family day on Sunday.
EVENT DINNERS
Pre Event Dinner
For those making a weekend away, enjoy a social evening with fellow trail runners on Friday night at the Lorne Pub, cnr Bay St, 6:00pm to 9:00pm.  
During registration we ask you to indicate if you intend to join us for dinner so we have an idea of numbers and can book a few tables.
Post Event Dinner
After a day on the trails, come and hang out with your trail family and tell your tales, challenges and highlights. This is also at the Lorne Pub.  Again, we ask you to indicate if you intend to attend so we can reserve a few tables.
RACE SCHEDULE
Check-in** is at the very far end of the Cumberland River Holiday Park. See parking details below.
Please note that check-in and briefing are both compulsory.  Competitors collect their race bib and pre-ordered merchandise during check-in.
Registration and purchase of merchandise is also available on race day during check-in time.
PLEASE CHECK SCHEDULE CLOSER TO EVENT DATE FOR ANY CHANGES.
**In extreme conditions, an alternate course will be used. In this case, check in will be at the Sheoak Picnic Ground. Buses will transport competitors from Cumberland River Holiday Park, leaving 90 minutes before race start time. For those parking in Lorne, the Shuttle buses from Lorne will take competitors to the Sheoak Picnic Ground (see PARKING below).
AID STATIONS
There will be aid stations placed on course:
Junction Garvey Tk & Cumberland Falls Tk – 3km from start and finish for all distances
Great Ocean Road Carpark, Sheoak Falls – 8km for 25k, 42k & 52k runners only
Sheoak Picnic Ground – 9km for 13k runners, 16km for 25k runners, 12k/33k for 42km runners, 12k/33k/50k for 52km runners (DROP BAGS)
Phantom Falls – 18km & 29km for 42k & 52k runners only
Blanket Leaf Picnic Ground – 23km for 42k & 52k runners only (DROP BAGS)
Junction of Garvey Tk & Sharps Tk – 42km for 52k runners only
DROP BAGS must be placed in bins to be taken to the aid stations by 8am.
PRESENTATIONS
All finishers receive a custom designed medal.
1st, 2nd and 3rd place winners each receive a trophy and a prize. However, the winner must be present to receive the prize. If you are a winner, we hope you can stay. Presentations will begin as soon as we have all winners for a race. If you are a winner and cannot stay, please let us know.
The Mountain Series winners' awards will also be presented at Wonderfalls, as soon as results are confirmed.
We hope everyone can stay and help us celebrate our winners, relax and enjoy a coffee and pizza.
CAR PARKING
Competitors who stay at the Holiday Park can park at their camp site.
COMPETITORS AND THEIR FAMILIES WHO ARE NOT STAYING AT THE PARK MUST NOT PARK IN THE CUMBERLAND RIVER HOLIDAY PARK CARPARK.
Trailsplus must not stop members of the public from visiting the location and parking in the car park.
Free car parking in Lorne is available just after the Lorne Hotel, heading  toward Cumberland River, and just a short walk back to the shuttle bus pick up location. Please note parking restrictions elsewhere.
SHUTTLE BUS
A shuttle bus will pick up competitors and their families from 3 locations in Lorne:
1. Information Centre carpark, 15 Mountjoy Parade, Lorne
2. Lorne Hotel, 176 Mountjoy Parade, Lorne
3. Grand Pacific Hotel, 268 Mountjoy Parade, Lorne
Competitors must pay a $10 fee to the bus driver on the day, CASH ONLY. Families travel for free.
WHAT TO BRING
Mandatory
– water bottle or cup (no paper cups provided)
– windproof/waterproof, hooded jacket, gloves and beanie or buff (depending on weather conditions)
Highly recommended
– mobile phone
– map
– wide compression bandage
– emergency food
– a good quality trail running shoe
– post race warm clothes and dry shoes and socks
Remember you finish crossing the river 500m from the finish, perfect to wash mud off, but your shoes will be wet.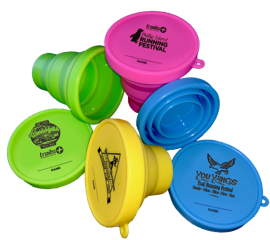 We require you to carry a water bottle or cup while you run. Water and sports drink are available at aid stations on the course (see the maps for locations). We DO NOT PROVIDE PAPER CUPS during our events, but you may purchase a collapsable silicone reusable cup during check-in.
TRACKING
From 2023, Trailsplus is trialing tracking of competitors for the longer distance races. This will use trackers at various locations on the course. Competitors do not need to do anything except ensure their bibs are worn on the front of their torso ready for a clear reading.
COURSE INFORMATION
Respect other people
Our good reputation for keeping the trails clean is very important to us, and important for the future of this event. It is a privelege to be permitted to run so near to the water catchment areas. Please be careful to observe the following:
leave NO rubbish, including tabs off the top of gel packets
respect all other trail users, they have equal rights to it (do not startle people by charging up behind them – let them know you are coming & would like to pass, politely slow down and make room as you pass oncoming traffic)
follow all course markings so you do not stray into restricted water catchment areas
Be careful
Although the entire course is runnable, there are some very steep and technical sections. Please make sure you move at a controllable pace. Take extreme care when you start to descend from the towers at the top of Mt St Leonard. The first 1km is unstable, rocky and technical. SLOW DOWN HERE.
There are lots of undulating sections that require your full attention but, for the most part, the course is very runnable. I know you will enjoy it!
Caution – Road Section
There is one road crossing where you may encounter some public traffic. This is located on the approach to Sheoak Picnic Ground. Please take extreme care when on the dirt road running up the road for 200m between Kalimna Track and Sheoak Picnic Ground access track.
Navigation
The entire course will be well marked with directions. These consist of:
-signs with red arrows on white background at intersections
-flour arrows on the ground at intersections
-pink and yellow ribbons in trees at intervals along entire course
PERSONAL BELONGINGS
A place will be provided for you to leave your personal belongings.  Trailsplus IS NOT responsible for their safe keeping. Please do not leave valuables. Car keys may be left at check-in and collected from the timing tent.
CUT-OFF TIMES
At this time of year the sun rises at 6:45am and sets at 6pm. The final stages of the course are in a valley, so it is naturally darker over the final 3-4km of the course and the last 5km involve water crossings and a steep downhill section. These determine our cutoff times. If our aid station volunteers believe you are not able to start the descent and complete the final 5km before 5pm you will not be permitted to continue and will be driven back to the start via car.
5k and 13k competitors must leave the aid station by 3pm.
All other competitors must leave the aid station by 4pm.
MUSIC DEVICES
Music devices are permitted for this event but ear phones MUST BE REMOVED in the following circumstances
-when running on roads
-when approaching an aid station and while at the aid station
-when running on technical single trails
It is important to be able to hear instructions and it is polite to acknowledge aid station volunteers and listen to their encouraging comments.  It is also important to be able to hear other competitors coming up behind you on a section of single trail, and to hear their words of encouragement.
TERMS AND CONDITIONS
Please also read our terms and conditions. Information includes:
Obeying instructions
Safety
Knowing the course
Age requirements
Cut off times
Withdrawals
iPads and other audio devices
Insurance
Race Bibs
Payment options on the day
Personal belongings and valuables
Photos and videos
Rubbish
Pacing
Refund Policy
Privacy Policy
Our Sponsors
We are proud of our sponsors and partners because we believe in their products. We are confident you will be satisfied as you check them out and support them. If you have a product that you would like to share with our running community, please contact us for a chat. We'd love to hear from you.