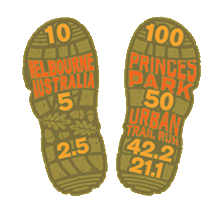 Princes Park Urban Trail Run
Cancelled
2.5k – 5k – 10k – 21k – 42k – 50k – 100k – 6hr – 12hr
Princes Park 2023 has been cancelled.
The event cannot proceed in its usual format due to insurmountable conditions in the permit requirements. 
Princes Park is only a short tram ride from the centre of the Melbourne business district. It is a 2km long narrow stretch of parkland catering for a wide range of sports, including cricket, tennis and lawn bowls, and is home to the Carlton Football and Cricket Club.
This is a great run for family, supporters and spectators, with a 2.5km loop you have plenty of opportunity to encourage and cheer your runner. And what a great place to play while you're waiting!
PLEASE READ THE BRIEF CAREFULLY IF YOU ARE A COMPETITOR.
Fees for 2021
The schedule below will be updated for 2022
All prices listed are excluding Humanitix** fees and GST.
SUPER SPECIAL
19th May 7pm-midnight
LATE
28th June – 4th July
Princes Park Urban Trail Run Course Maps
Click on maps for a downloadable PDF.
Princes Park Location
Princes Park
Royal Parade
Parkville VIC 3052
The start line is on the path that starts at tram stop 17 on Royal Parade. There's all day parking around the park and in side streets. Pack a picnic and and a ball, and even the dog!
All Trailsplus events donate $1 for each participant to CanTeen, the Australian organisation for Young people Living with cancer.
UPDATE: In 2019, there were 225 race entries and online personal donations of $160, so for the 2019 Princes Park Urban Trail Run, Trailsplus donated a total of $385 to Canteen.
On June 30th 2019 we surpassed donations of $50,000 to CanTeen. Massive thanks to our runners, volunteers and supporters.
Our Sponsors
We are proud of our sponsors and partners because we believe in their products. We are confident you will be satisfied as you check them out and support them. If you have a product that you would like to share with our running community, please contact us for a chat. We'd love to hear from you.