Mt MACEDON TRAIL RUN
RACE INFORMATION
Please read the brief carefully if you are a competitor.
The Race Brief documented will be emailed to all competitors during the week before the race. This will include any last minute changes. This may include information such as, but not restricted to:
changes to the course
changes to the aid station locations
latest weather details
updates to the list of mandatory equipment
etc.
2021 RACE SCHEDULE
Please note that check-in and briefing are both compulsory.  Competitors collect their race bib and pre-ordered merchandise during check-in.
Registration and purchase of merchandise is also available on race day during check-in time.
CUT-OFF TIMES
50km competitors – Mt Macedon Rd crossing at 25km – 12:30pm (5 hrs)
42km competitors – Mt Macedon Rd crossing at 23km – 1:00pm (4.5 hrs)
30km competitors – Baringo Rd Aid Station at 22km – 1:00pm (3.5 hrs)
21km competitors – Baringo Rd Aid Station at 14km – 1:00pm (2.5 hrs)
The decision to stop a runner will be made by the race director after consultating with aid station operators, race sweeps and medical support personnel. All efforts will be made to allow a competitor to finish. Health and safety of competitors and respect for aid station volunteer time will be most important in the decision-making process. If a competitor is stopped, they will be transported by car to the finish.
PRESENTATIONS
All finishers receive a custom designed medal.
1st, 2nd and 3rd place winners each receive a trophy and a prize. However, the winner must be present to receive the prize. If you are a winner, we hope you can stay. Presentations will begin as soon as we have all winners for a race. If you are a winner and cannot stay, please let us know.
We hope everyone can stay and help us celebrate our winners, relax and enjoy the BBQ facilities, and possibly even receive some great spot prizes. 
CAR PARKING
Competitors MUST NOT park in the main cafe car park.  Competitor parking is in the Tower Car Park, beyond the cafe car park.  Car park managers will direct competitors to the correct location.
MANDATORY GEAR
Mandatory weather proof and thermal clothing will be advised closer to the date.
30k, 42k and 50k competitors must carry a phone with a tracking app and a battery pack.  Details will be advised closer to the date.
WHAT ELSE TO BRING
– Water bottle or cup (no paper cups provided)
– A good quality trail running shoe is highly recommended.  A normal running show will not be sufficient.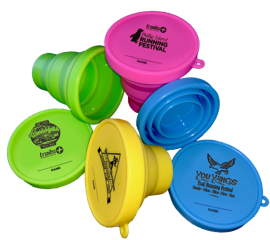 We require you to carry a water bottle or cup while you run. Water and sports drink are available at aid stations on the course (see the maps for locations). We DO NOT PROVIDE PAPER CUPS during our events, but you may purchase a collapsable silicone reusable cup during check-in.
Make sure you have warm clothes to wear once you cool down.
COURSE INFORMATION
Respect other people
Our good reputation for keeping the trails clean is very important to us, and important for the future of this event. It is a privelege to be permitted to run on these trails. Please be careful to observe the following:
leave NO rubbish, including tabs off the top of gel packets
respect all other trail users, they have equal rights to it (do not startle people by charging up behind them – let them know you are coming & would like to pass, politely slow down and make room as you pass oncoming traffic)
follow all course markings so you do not stray into restricted water catchment areas
Be careful
Although the entire course is runnable, there are some steep, slippery and technical sections. Please make sure you move at a controllable pace on these sections.
Caution – Road Section
Traffic controllers will assist runners across Mt Macedon Rd.  Please follow their instructions for your safety and theirs.
Navigation
The entire course will be well marked with directions. These consist of:
-signs with red arrows on white background at intersections
-flour arrows on the ground at intersections
-pink and yellow ribbons in trees at intervals along entire course
PERSONAL BELONGINGS
A place will be provided for you to leave your personal belongings.  Trailsplus IS NOT responsible for their safe keeping. Please do not leave valuables. Car keys may be left at check-in and collected from the timing tent.
MUSIC DEVICES
Music devices are permitted for this event but ear phones MUST BE REMOVED in the following circumstances
-when running on roads
-when approaching an aid station and while at the aid station
-when running on technical single trails
It is important to be able to hear instructions and it is polite to acknowledge aid station volunteers and listen to their encouraging comments.  It is also important to be able to hear other competitors coming up behind you on a section of single trail, and to hear their words of encouragement.
TERMS AND CONDITIONS
Please also read our terms and conditions. Information includes:
Obeying instructions
Safety
Knowing the course
Age requirements
Cut off times
Withdrawals
iPads and other audio devices
Insurance
Race Bibs
Payment options on the day
Personal belongings and valuables
Photos and videos
Rubbish
Pacing
Refund Policy
Privacy Policy
Our Sponsors
We are proud of our sponsors and partners because we believe in their products. We are confident you will be satisfied as you check them out and support them. If you have a product that you would like to share with our running community, please contact us for a chat. We'd love to hear from you.