RUN THE LIGHTHOUSE
RACE INFORMATION
THE COURSE
Run the lighthouse is pure adventure!! The course is self-supporting and is UNMARKED so you must print out and carry the downloadable map and make sure it is loaded onto your phone (see the maps on the main Lighthouse page). Carry a spare battery for your phone.
The course requires focus at decision points and you should regularly refer to your map.
21km and 6km is very simple to navigate but there are still decision making points that require focus (eg. the exit from Norman Beach near the start-finish). 
For the 6km, keep an eye out for the diversion to the lookout at about 2.8km.
For the 21km, watch out for the exit off Oberon Beach toward Telegraph Track. 
RACE SCHEDULE
FRIDAY FEB 26th
There are NO on day registrations.
Meet at race hub.
15:00 – 20:00 Pre race gear check in, bib and pre-ordered item collection
Uncollected pre-ordered items will be posted and a postage fee will be charged.
SATURDAY FEB 27th
Roll call is compulsory. If not checked off at roll call you can not start the event and are deemed a DNS and will not be considered a person of interest on course for safety and evacuation purposes.
Roll call forms part of our pre race briefing, while the briefing will be abbreviated it will be highlighting some specific and significant aspects of the race safety requirements, course notes and conduct of participants. Race brief attendance is compulsory as part of Roll Call.
PRESENTATIONS
This is a low key event, so not too much fanfare. 
Medals will be presented as each competitor finishes.  Trophies will be presented as soon as possible when winners are in.
START LOCATION
We are hosting the event from the school area of the Tidal River camp ground, Wilsons Prom (next to the Normal Beach carpark. The start-finish is right on your door step if camping at Tidal River.  Be sure to book a cabin or camp site early.
As always, weather can play a factor in trail running events and the Prom can deliver the most glorious of days through to the worst.  Please be prepared for anything.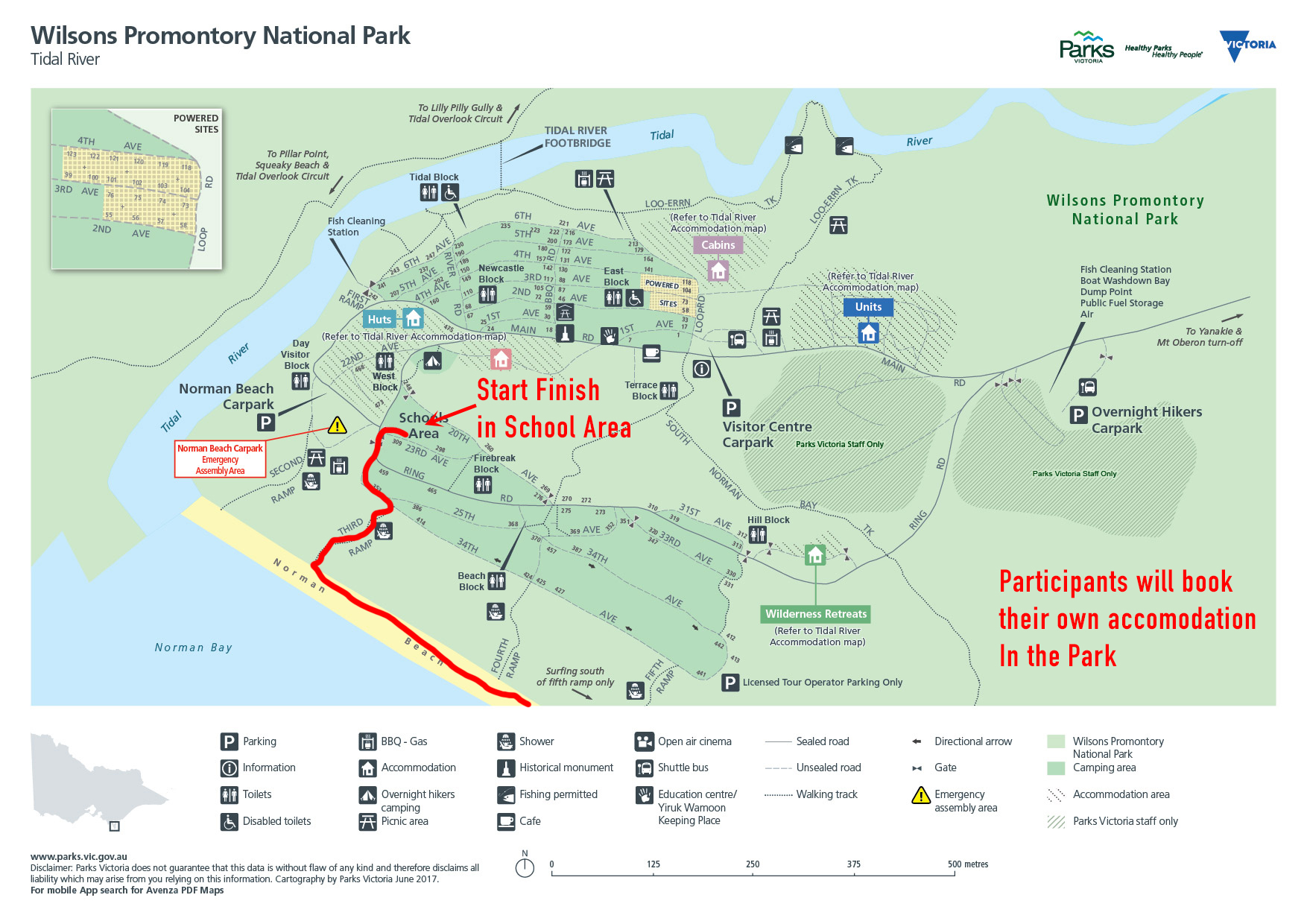 DROP BAGS
115km and 55km competitors can leave personal drop bags for Aid 1.
Drop bags to be presented before Aid 1 crew leave, soon after 7:00am.
Note that it is not expected that Aid 1 will be operational at your 10km mark. It will be available from 44km.
Drop bags:
must be no bigger than a typical shopping bag
must be named and clearly identifiable
must be collected at the end of the race
Any equipment remaining will be held for 14 days, then delivered to a charity op shop.
AID STATIONS
Still confirming availability of volunteers to man aid stations.
Assume Aid 1 present and may be unmanned. Aid 2 and Aid 3 to be confirmed.
If aid station is unmanned, please ensure no rubbish escapes and all food containers are sealed tight to prevent wildlife access.
The following locations will be confirmed closer to race day:
Aid 1 – Telegraph Track Junction 10km – 44km – 100km
Aid 2 – Oberon Carpark 16km – 94km ( if available )
Aid 3 – Roaring Meg 49km – 55km (if available )
CUTOFF TIMES
There will be key cutoff or mandatory course diversions for the 115km competitors ONLY.
44km – 2:30pm (7.5hrs)
Aid 1 volunteers' discretion up to 2pm. Return via shortest route. (55km finish)
55km – 5:30pm (10.5hrs)
Backtrack to Aid 1 and Oberon beach. (70km finish)
70km – 10:30pm (15.5hrs)**
Exit Waterloo Bay Beach. Inland crossing to Telegraph Tk & Oberon Beach. (85km finish)
93km – 3:30am (20.5hrs)
Aid 1 may be packed down. Collected by car. (DNF)
**Continuing on after 70km at 9:30pm is predicted to result in a finish time in excess of 26hrs. We have an overall time limit of 24hrs.
TERMS AND CONDITIONS
Please also read our terms and conditions. Information includes:
Obeying instructions
Safety
Knowing the course
Cut off times
Withdrawals
iPads and other audio devices
Insurance
Race Bibs
Payment options on the day
Personal belongings and valuables
Photos and videos
Rubbish
Pacing
Refund Policy
Privacy Policy
Our Sponsors
We are proud of our sponsors and partners because we believe in their products. We are confident you will be satisfied as you check them out and support them. If you have a product that you would like to share with our running community, please contact us for a chat. We'd love to hear from you.