BRIMBANK PARK RUNNING FESTIVAL
RACE INFORMATION
The Race Brief documented will be emailed to all competitors during the week before the race. This will include any last minute changes. This may include information such as, but not restricted to:
changes to the course
changes to the aid station locations
latest weather details
updates to the list of mandatory equipment
etc
PRESENTATIONS
Presentations will begin for each distance as soon as possible after 1st, 2nd and 3rd places are determined for that distance.
All finishers receive a custom designed medal.
1st, 2nd and 3rd place winners each receive a trophy and a prize. However, the winner must be present to receive the prize. If you are a winner and must leave before presentation, please let us know.
Team results may be calculated late as team members may be participating in the longer distance events. These may be announced on social media or via email.
CAR PARKING
There are 3 carparks available within the park:
Carpark A – 200m from start
Carpark B – 500m from start
Carpark C – 900m from start
Follow the signs.
Please park considerately to maximise car parking availability for other competitors, supporters and park users.
Trailsplus suggests carpooling if possible as the carparks can become very busy with park visitors.
WHAT TO BRING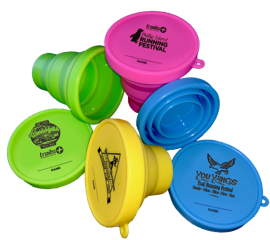 Please bring a water bottle or cup to carry while you run. Water and sports drink is available at several aid stations on the course. See the maps for locations. We do not provide paper cups during our events, but you may purchase a collapsable silicone reusable cup during check-in.
Trail shoes are not necessary. Road runners are perfectly fine for the urban park trails.
Make sure you have warm clothes to wear once you cool down.
Your belongings are your responsibility.
AID STATIONS
Aid stations are provided on course. They are not more than 5km apart.
Aid stations provide:
water
high energy foods (lollies, chips, chocolate, cake)
fruit
minimal first aid
Some aid stations provide sports drink.
Drop Bags for 42k and 50k competitors may be used at the Farm and the Start-Finish passthrough aid stations.  Boxes will be provided at registration.
42km
Start-Finish = 5k, 21k, 26k
The Farm = 13k, 15k, 34k, 36k
50km
Start-Finish = 8k, 13k, 29k, 34k
The Farm = 21k, 23k, 42k, 44k
An aid station is provided at the finish line, along with full first aid services. Please see our first aid personnel if you have an injury or are feeling unwell.
TERMS AND CONDITIONS
Please read our terms and conditions. Information includes:
Obeying instructions
Safety
Knowing the course
Age requirements
Cut off times
Withdrawals
iPads and other audio devices
Insurance
Race Bibs
Payment options on the day
Personal belongings and valuables
Photos and videos
Rubbish
Pacing
Refund Policy
Privacy Policy
FREQUENTLY ASKED QUESTIONS
(Q) Can I set up my own shelter or marquee?
(A) No, marquees and structures require permits, and fees are payable.  Trailsplus pays for a permit that allows ONLY official Trailsplus marquees to be setup.
(Q) Will there be live results?
(A) Yes, a link will be provided from the Trailsplus website.
Our Sponsors
We are proud of our sponsors and partners because we believe in their products. We are confident you will be satisfied as you check them out and support them. If you have a product that you would like to share with our running community, please contact us for a chat. We'd love to hear from you.